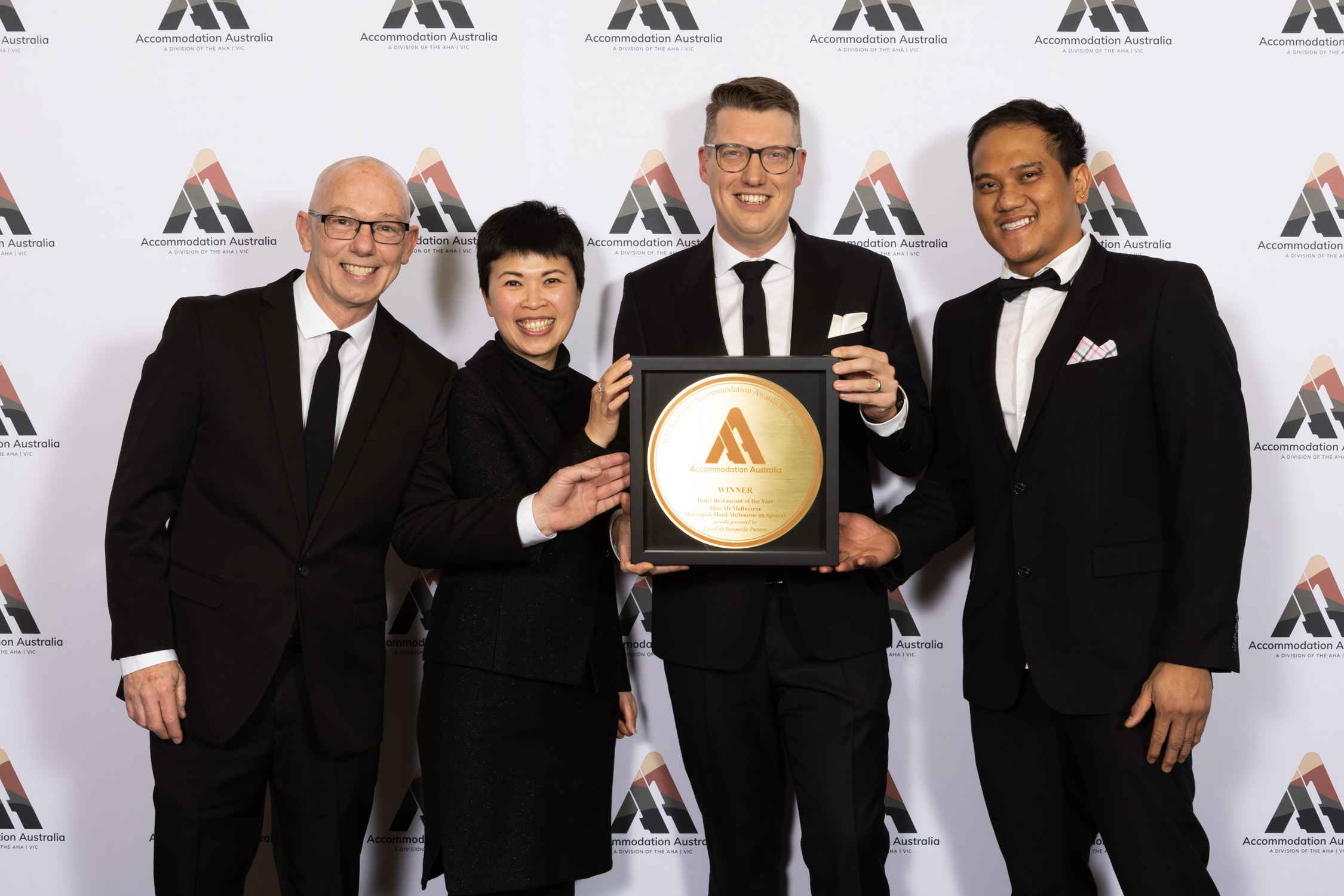 Miss Mi is thrilled to have won the prestigious 2023 Victorian Accommodation Award for Excellence in the 'Hotel Restaurant of the Year' category. The announcement was made last night, August 17, 2023, during the gala awards event held in Melbourne.
Mövenpick Hotel Melbourne on Spencer was also recognised as a Finalist in the 'Superior Accommodation of the Year' category.
In a highly competitive field of exceptional hotel restaurants across the state, ranging from midscale to superior hotels in metropolitan Melbourne, Miss Mi emerged as the sole winner in its category.
The Victorian Accommodation for Excellence Awards, jointly organised by Tourism Accommodation Australia Victoria (TAA, Vic) and the Accommodation Association (AA), involve anonymous property visits for thorough assessment.
The prestigious Victorian Accommodation Awards for Excellence, overseen by TAA, Vic and AA, aim to acknowledge outstanding hotels and restaurants throughout the state. The winners are selected after anonymous judges' property visits, with recognition reserved for venues that consistently deliver top-tier service and exceptional experiences that wow the judges.
The judging process involves a third-party anonymous assessment organisation completely independent of TAA (Vic) and AA, ensuring a fair and competitive award selection.
With its top-tier service and a fresh, modern menu featuring crowd-pleasing dishes like Mang Larry's Style Kangaroo Skewers, Chilli Crab & Prawn Dumplings, and Hainan Style Chicken Curry, which take Melbourne diners on a delectable gastronomic journey through South East Asia, Miss Mi restaurant stood out among the finalists and proudly claimed the Gold medal.
Cory Norris-Jones, General Manager of Mövenpick Hotel Melbourne on Spencer, attributed the victory to the collective effort of everyone in the hotel.
"We take pride in our team winning the Hotel Restaurant of the Year category, and I extend hearty congratulations to our restaurant staff who made this achievement possible. I'd also like to acknowledge the hard work of every individual at Miss Mi. This would not have been possible without each of you."
Executive Chef, Christian Corpuz also shared his thoughts on Miss Mi's future following the receipt of the award.
"The Miss Mi team are honoured to win this prestigious award. I know our guests will be visiting us with high expectations of our menu and service and it is wonderful motivation for us. We are always looking to improve, grow and innovate to be a better Miss Mi for our guests. We are currently working on some exciting new South East Asian dishes for our spring menu and we look forward to welcoming everyone soon."
Curious to experience the multi-award-winning, one of the best Asian restaurants in Melbourne CBD, Miss Mi, and its innovative culinary journey to the heart of South East Asia? Book your table for the finest Asian cuisine in Melbourne and savour the experience for yourself.
Click here for the full details of 2023 Victorian Accommodation Award for Excellence